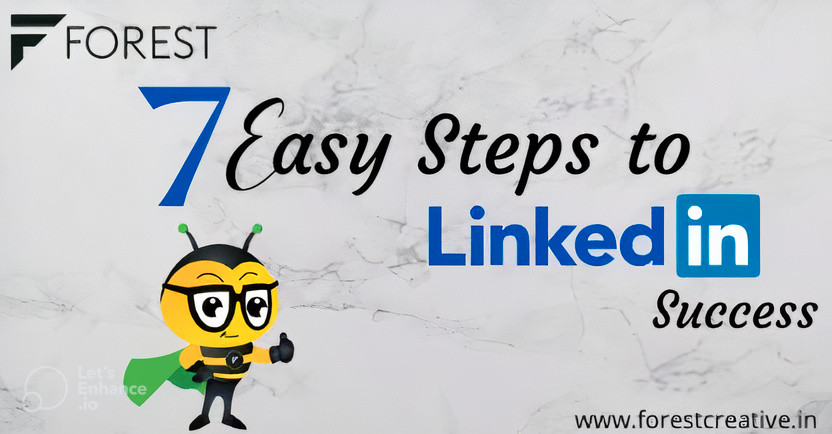 7 Easy Steps to LinkedIn Success
June 20, 2022
A LinkedIn profile promises you more opportunities for a robust career than your resume. According to Kinsta.com, 'LinkedIn now has almost 740 million members with over 55 million registered companies, out of which, 40% access it daily, clocking in over 1 billion interactions every month'.
Interestingly 60% of LinkedIn's user base comprises millennials. '11 million of the 87 million millennials are in decision-making positions' reports Kinsta.com. This makes it a lucrative space for professional interactions among young job-seekers.
How to Make LinkedIn Work for You
LinkedIn can be versatile according to your needs. Before you start, the most important thing to do is understand your objective. What do you aim to achieve through LinkedIn?
. Are you seeking employment?
. Are you looking to expand your business?
. Do you want to establish yourself as a subject matter expert?
. Would you like to grow your network?
. Do you want to create impactful Personal Branding?
Let us find out how to make the best of your LinkedIn profile to achieve your goals.
1. Create an Impression with Your Profile Picture
Being on a professional platform requires a professional introduction. Every person would like to interact with someone they can see. A LinkedIn profile picture establishes the first visual impression of who you are as a person. LinkedIn suggests a profile picture showing 60% of your face and advises against long shots and photographs with others. It even lets you set your profile picture privacy. For example, if your goal is to gain more audience, setting your privacy to the public can make it discoverable by search engines.
2. Use a Banner that Mirrors You
The background banner is the only real estate on LinkedIn that provides maximum area for visual visibility. You can set the context for what you are about or what you offer. Think of it as an outdoor hoarding for yourself. There is plenty of room for personal branding and customization of content here.
Always consider what you would like to communicate to your audience before choosing a banner. Select backgrounds that make you stand out, and command attention and engagement from visitors. Explore sites like Unsplash, Canva, and Pixels for an excellent choice of images.
3. Personalise Your Headline
The headline is the most crucial part of every LinkedIn profile because it is the first text to appear next to your profile picture and the background. It is also the first thing people read about you when you engage with their profiles or content, send a personal message, or appear in search results.

Make your headline concise and creative. Most people make the common mistake of using the headline to show their designations within an organization. Instead, use brief phrases or descriptions of how you see your role, why you do what you do and what makes you tick. For example, if you are into brand strategy and consulting, you could write—' Knowledge-cholic, Brand Maverick, interested in building valuable brands', etc.

Another tip for high visibility of your LinkedIn headline is to optimize it for keywords you want. Speculate on words, skills, or expertise your potential target audience may be searching for and use them in your headline.
4. Make Your Summary as Your Narrative
A LinkedIn summary is a space that gives you scope for personalizing your story. It is where you can market yourself best. Ensure you have a summary so that people can comprehend your context of professional choices and trajectories.

Take time to write this out. Think about what kind of impression you want to create. Develop content that will package you well—build a powerful personal brand narrative. Always write in the first person to make it amicable and conversational.

Explain why your skills matter, what you do, why you do it, how and who benefits from your expertise, and why someone should trust you. You must make sure that you also have a CTA provided in the summary so that people can reach out to you. A good summary will attract the right target audience and suitable opportunities.
5. Skills.Endorsements.Recommendations
According to LinkedIn, members with more than five skills are 27x more likely to be discovered in searches. Therefore, the education, position, and skills section plays a crucial role in the discovery of your profile by recruiters and potential collaborators.

LinkedIn lets you add up to 50 skills, of which you can pin three for display on your profile. Ensure you choose core skills relevant to your profile and update them now and then. People in your network can endorse your skills. LinkedIn settings allow profiles to be included in endorsement suggestions to your connections. Alternatively, one can request endorsements from employers or colleagues personally.

Likewise, there is a provision on LinkedIn to take skill assessments, which will add credibility to your profile and showcase the degree of your expertise. In addition, you will earn a verified skills badge on your profile if you take them. Candidates with verified skills have 30% more consideration than those who don't.

If endorsements display your valuable skills, then recommendations take them a step further. They are personal testimonials advocated to illustrate someone's experience of working with you. LinkedIn lets you request recommendations from specific contacts.
Ask for recommendations from whom you value. Giving recommendations can be an equally rewarding practice, as it helps you build and better your acquaintanceships. Always attempt to personalize your requests.
6. Network Sociably
It is not enough to have a good profile on LinkedIn. LinkedIn algorithms respond to active profiles in the network. Therefore, the best way to achieve your goals is by participating in what your LinkedIn network offers.
Add value by sharing or creating content to your feed relevant to your brand and audience. Make yourself sound objective and relatable. Following influencers of interest demonstrates your passion for your vocation. Create content that appeals to a diverse audience. Help them get smarter or solve a problem. Engage by starting conversations with your connections. Share industry-specific topics and publish personal insights from time to time to position yourself as an authority and build credibility and trust.

Commenting on your shares or a member's post lets people discover your point of view and establish your thought leadership. A well put across opinion attracts comments and engagement on your profile.

7. Exhibit Your Mastery
If there is one place on a LinkedIn profile that lets your talent and skills speak for themselves, it is the featured section. It adds a deeper dimension to your profile, as it helps highlight your best works and permits your audience to browse them directly.
You can showcase your portfolios, business collaterals, share case studies, white papers, blog links, or brand content here to exhibit your expertise. Publish long-form content to establish your thought leadership. Monitor how people engage with your posts to identify topics that resonate with them. Participate by responding to comments on your post.

If you are looking to build your brand or establish yourself as a subject matter expert, the creator mode gives you plenty of advantages. It will help you build community and increase visibility by enabling access to creator tools like LinkedIn live and newsletters. If you have published or co-authored an eBook or white paper, you can use the publications section to link your assets.
Freelancers, consultants, or solopreneurs looking for prospects, can spotlight their services in the providing services section. Similarly, the open-to-work section lets job-seekers display their job role preferences. The licenses, certifications, and courses sections can be of great value to those who consistently invest in upskilling. It enables you to exhibit your passion for learning.
The thought behind creating a LinkedIn profile must be to establish an authentic professional personality. It is about developing likability and trust in who you are. Here, influencing works better than marketing. Remember, a good recall on the platform and building a network relevant to your future requires a consistent investment of your time and effort. So, take advantage of this space to showcase your best professional self.
Written By Lakshmi Pavithran
#likendIn #socialmedia #brandstrategy #marketing #Professionalism