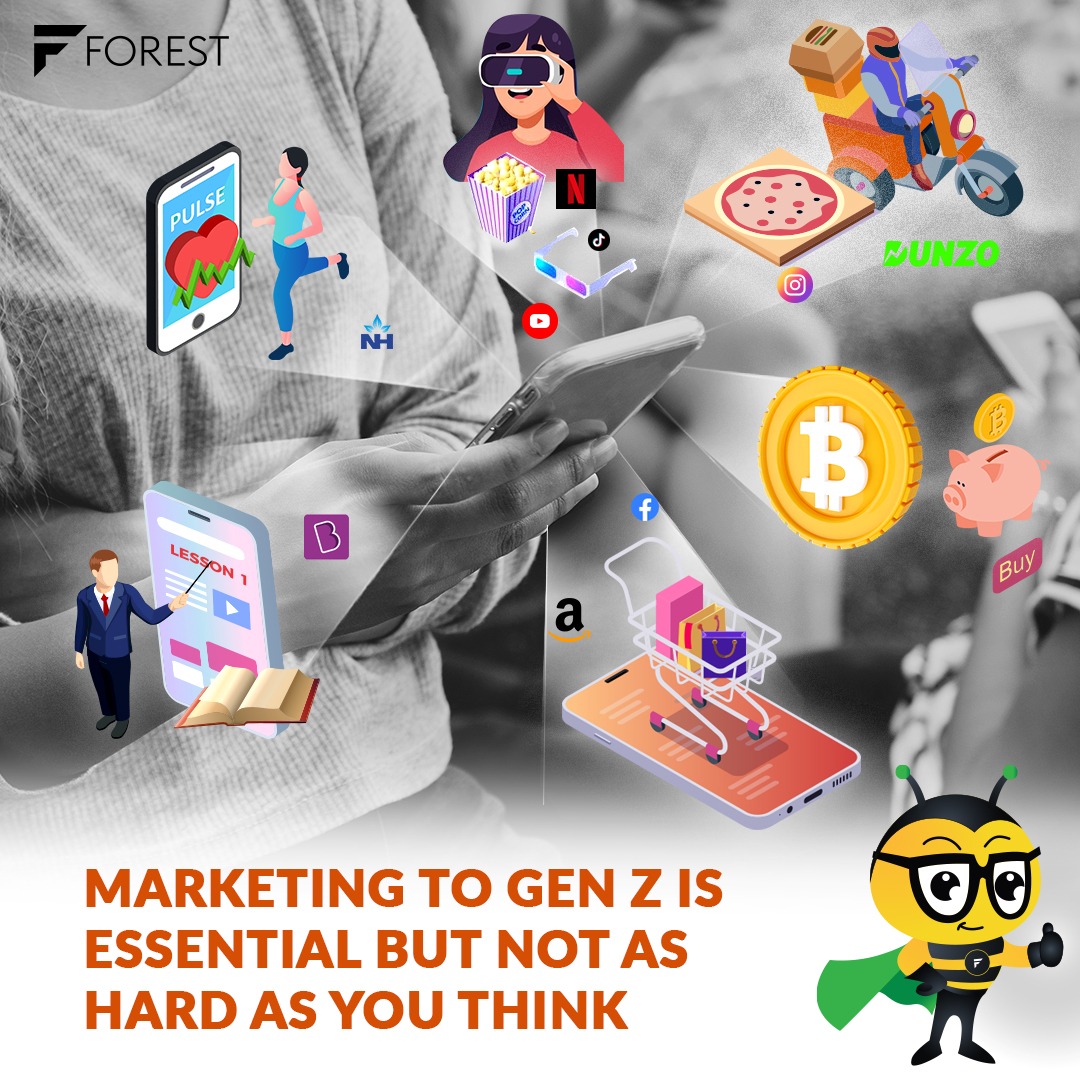 How to Get Started With Marketing to Gen Z
Jan. 11, 2022
The newest generation, Generation Z or Gen Z for short, is the "largest generational cohort in history," according to a 2020 Ernst & Young analysis. For the uninitiated, someone is Gen Z if they were born after 1995, according to the most popular definition.
There are approximately 1.8 billion Gen Z folks around the world right now, making up about 24% of the global population. In India, 27% of the population is Gen Z. A 2018 Pew Research Center survey found that 95% of 13- to 17-year-olds use a smartphone. And some 45% of teens say they're online almost constantly.Needless to say, companies are vyi ng to get the attention of this large group.
In this article, I'll provide an overview of how to get started with marketing to this group of young people.
Understand Gen Z and how they use the Internet
The first step to take when developing a new marketing strategy is to understand your target audience. According to the Pew Research Center I alluded to earlier, 97% of teens use at least one of the seven major online platforms, with YouTube, Instagram, and Snapchat being the three most popular platforms. Facebook and Twitter also witness considerable attention from teens.
With heavy social media usage among Gen Z, it's clear that traditional forms of marketing like TV ads, print ads, and billboards are less likely to be effective. To reach Gen Z, you have to go online. Your online ads need to be short and crisp, similar to the content they're likely to consume.
Whether you're making ads for YouTube, Instagram, or Facebook, they need to be attractive and seamlessly fit into the types of content relevant for each app. For exampletohort video ads on YouTube, Stories on Instagram, and pictorial ads on Facebook work well.
Besides, with Gen Z's growing appetite for short-form video content, TikTok can prove to be a vital component of your strategy to connect with Gen Z.
Make Interactive Content
Gen Z doesn't just want to read or watch. It wants to interact. Younger customers want to engage with your posts. They want to share your content and express their views.
Here are some ideas for interactive content:
- Twitter and Instagram polls: They'll allow you to understand Gen Z better while providing you with ideas for new content.
- Quizzes to help potential customers find the styles that suit their personalities.
- Reddit AMA's
Respond to Your Followers on Social Media
Your followers are likely to keep engaging with your content if you respond to their replies or comments on social media. Not only can this increase customer loyalty, but it can affect your bottom line in the long run.
People are increasingly turning to social media as a channel for customer service. So, it becomes imperative that you respond to customers' queries. Use tools like social listening to ensure you never miss a keyword mention or other meaningful comments from your followers.
Show a Sense of Humor, But Don't Overdo It
Most of the Gen Z crowd wants to support brands that they perceive as "cool." It's why humorous and meme-based content is so popular among this demographic.
Here are some tips on how to go about showcasing humor on social media:
- Be natural. If your attempt at making funny content looks forced, it would be jarring for the audience.
- Use the latest memes. By using a meme that is several months old you risk being perceived as out of touch.
- Handpick interesting replies on your tweettoand quote them with a witty comment.
Marketing to Gen Z may involve tweaking your digital strategy, but it isn't something that is only reserved for youth-centric brands. With the right approach, you too can reach this fast-growing segment of the population.
Written by Srikant Mahapatra
Footnotes:
https://www.businessinsider.in/international/news/heres-a-look-at-countries-with-the-worlds-youngest-population/articleshow/77485084.cms