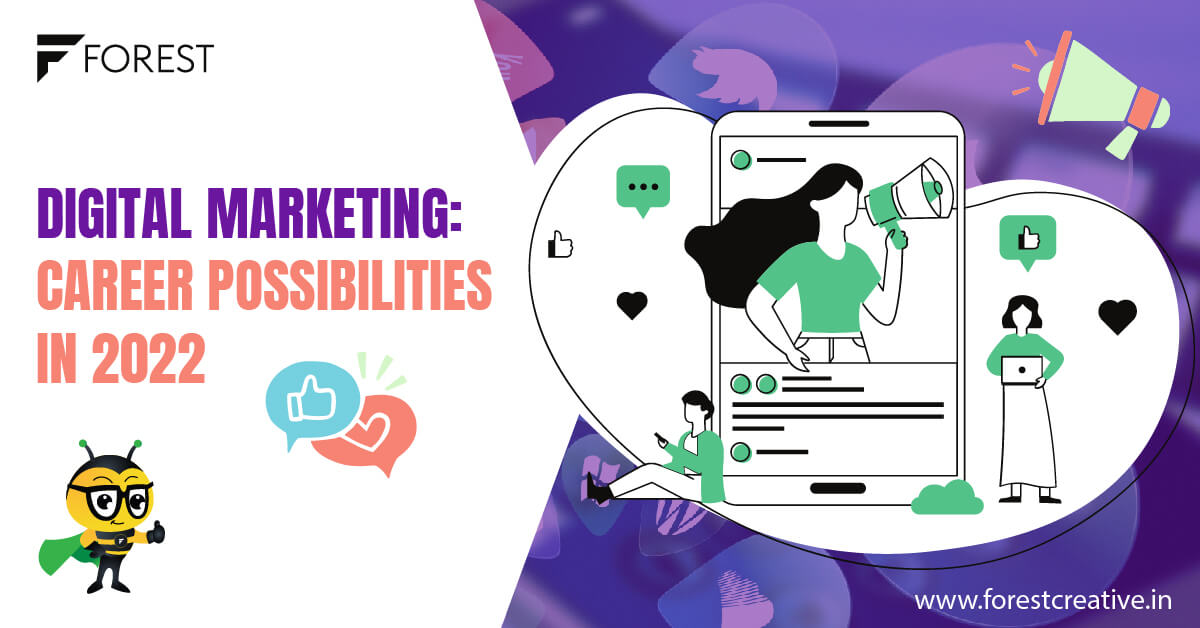 Career Opportunities in Digital Marketing- Yay or Nay?
July 21, 2022
What fuels a business? - Profits.
What gets you profits? - Purchases.
Who purchases from you? - Customers.
How do you get your customers? - Online/Offline.
What channels work the best? - Online, Online, Online!
Dive into the blog to gain further clarity on the scope of digital marketing as a career.

What is Digital Marketing?
A way of marketing and promoting your business on virtual platforms such as LinkedIn, Google, Facebook, Instagram, Twitter, and email marketing. Digital marketing helps a business in reaching the targeted audience effortlessly and showcasing its products or services virtually. Digital Marketing tools are used in various industries for efficient marketing. These tools help you to target and understand your audience better.
How did digital marketing come into existence?
Digital marketing gained more importance as the population started accomplishing their errands using a phone or tab than physically going to a place. Hence more time is spent on the phone, tablets, or laptops.
For example:
1. You do not recharge your phone from a nearby shop, you just use your phone.
2. You buy your groceries online.
3. Most of your communications are online.
4. You buy your clothes, shoes, and accessories online.
5. You pay your bills online.
6. And you work online.
Hence most of your work is done online, you tend to spend maximum time on the internet.
And you should know, that your marketing strategies give better results when you market your product in a densely populated place, and in this era, it's the social media platforms.
What's the significance of Digital marketing in a Business?
1. Any business of today or yesterday needs a digital marketing strategy to remain competitive in the market. Without which the business won't last even a year.
2. Businesses that don't have an online presence tend to lose out on customers.
3. Businesses lose their connection with the world as a result customers forget the business.
4. Digital marketing helps you reach maximum potential customers by implementing targeting strategies.
5. It helps you reach a customer in a different part of the world with minimal effort.
6. Businesses that have understood their online audience thoroughly, have more efficient marketing strategies that work unquestionably and have fetched maximum profits for the business. A business with social media presence without a strategy is just like a lunch box with juice.
Being on digital media is easy peasy, but attracting customers is difficult. Why?
Since all businesses are now moving towards marketing themselves online rather than offline, the social media pages are flooded with advertisements, and your audience will not even look at them despite spending huge bucks.

Every single business is present online; hence it is essential to understand the following:
1. Understand your product and its features.

2. Who would benefit the most?

3. How would they benefit from it?

4. Where are they mostly present or part of which groups online.

5. Identify the demographics, sex, location, and habits.

6. Create awareness and disseminate by implementing the first version of the marketing strategy.

7. Evaluate and assess the outcome and decide what worked the best to improvise.

8. Re-Strategize and target for better outcomes.

9. Google ads, Facebook and LinkedIn ads are the most popular way of marketing online for any business.
Online marketing needs to be assessed continuously to improve your marketing strategies for more profits.
In this era you cannot skip digital media. It's a boon for all kinds of industries to reach their audience anywhere in the world.
Hence digital marketing for any business is essential be it a home business, sole proprietor, msme or mnc's. It's booming by the day, holding a strong place in the industry now and will continue to expand in the future.
Looking for a Career in Digital Marketing? Here are a few Job Opportunities.
Digital Marketing Manager
A person who maintains and develops strategies to increase followers, creates and manages social campaigns, produces content, reviews analytics, and communicates with key stakeholders in a company.
SEO Specialist
An SEO specialist develops strategies, techniques, and tactics to increase the number of visitors to a website and achieve a high ranking on search engine results pages.
Social Media Marketer
A Social media marketer interacts with customers and responds to their inquiries Creating new social media campaigns and strategies. Managing a budget for social media promotion and pay-per-click (PPC) advertising. Data collection and analysis of social media campaign performance.
Content Marketer
A content marketer is in charge of creating an editorial calendar that includes case studies, research, tweets, blogs, videos, white papers, checklists, infographics, emails, letters, webinars, presentations, web copy, and a variety of other creative forms of communication.
Email Marketer
An Email marketing expert creates campaigns that drive brand campaigns and increase traffic. This allows them to solidify their position in a competitive market and ensure that their brand sees results in the short and long term.
Social Media Influencer
A social media influencer is someone who has built credibility in a particular industry, has access to a large audience, and can persuade others to act on their recommendations. In fact, when done correctly, influencer marketing is quickly evolving to become a key tool in a company's arsenal.
SEM Specialist
The responsibilities of a Search Engine Marketing (SEM) Specialist include: running tests, collecting and analyzing data, and identifying trends and insights. Using data analysis, maximize the ROI of paid search campaigns. Keep track of, report on, and analyze website analytics.
Digital Creative Designers
A Digital Designer's primary responsibility is to create digital assets for multimedia and graphics projects such as websites, mobile apps, advertising, animation, emails, social media, video games, and interactive displays. Some Digital Designers only work on digital projects, while others create print collateral.
Web Developer
Websites are created and maintained by web developers. They are also in charge of the site's technical aspects, such as performance and capacity, which are measures of a website's speed and capacity to handle the traffic. Web developers may also create content for the site.
Media Specialist
A Social Media Specialist plan, implement and monitor the company's Social Media strategy in order to increase brand awareness, improve marketing efforts, and increase sales.
Content Creator
A content creator is someone who creates entertaining or educational content for distribution via any medium or channel. Because digital content is consumed the majority of the time, content creation is especially important.
Data Analyst
A data analyst examines data to uncover key insights about a company's customers and ways the data can be used to solve problems. They also share this information with company executives and other stakeholders.
Automation Expert
An Automation expert assists business in automating email marketing, managing stakeholders, creating campaigns, and delivering online surveys.
There are digital marketing courses online as well as offline to learn or upskill in digital marketing. It is an essential skill for any individual running any kind of business or pursuing a career in marketing.
Sources:
www.google.com www.workable.com www.simplilearn.com www.coursera.com
Author: Shradha Gandhi
Content Specialist: Forest Creative Communications