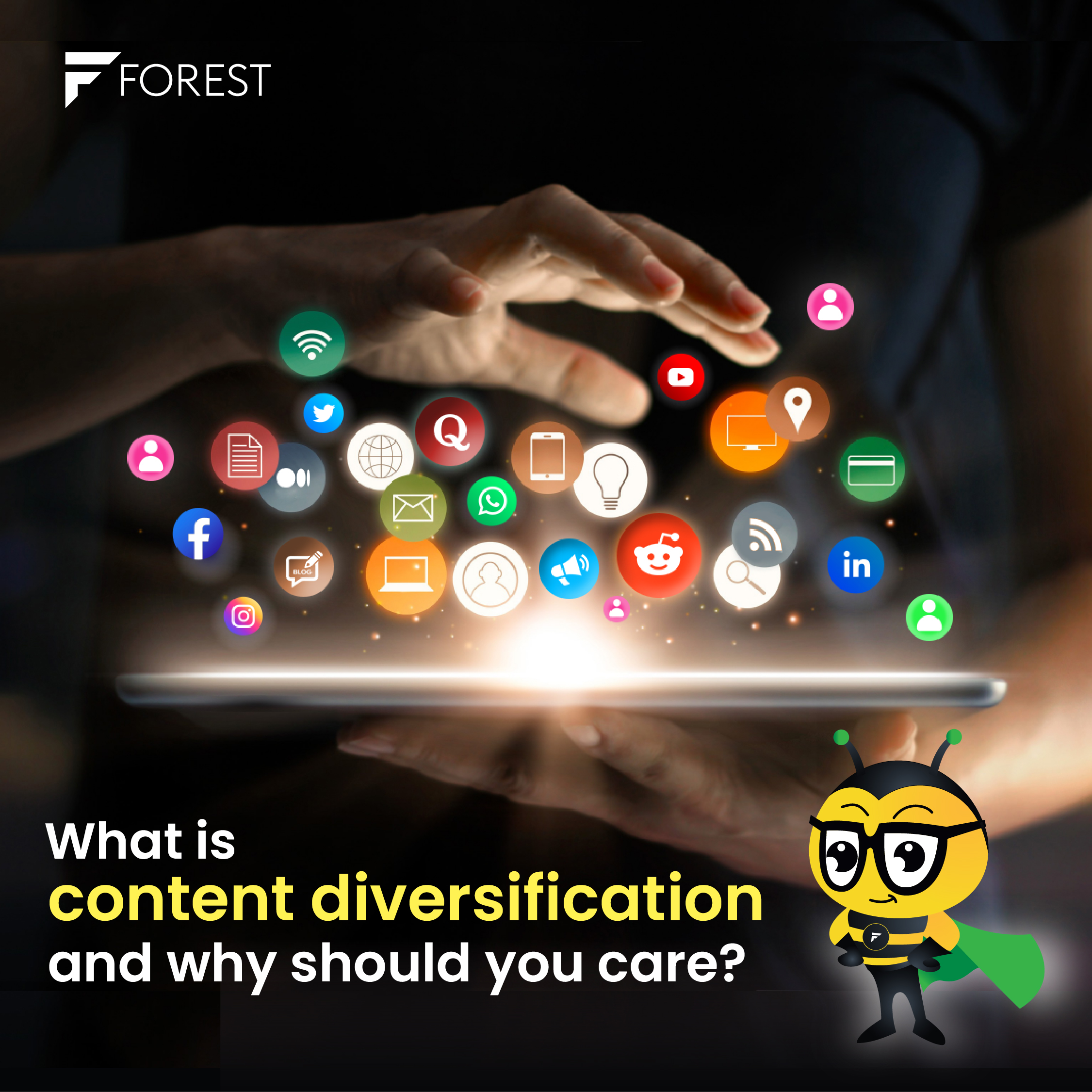 What is Content Diversification and Why Should You Care
Sept. 6, 2021
Content is still king in this age of digital marketing. But creating content just for the sake of creating content is not going to attract eyeballs. To ensure your content reaches the right people at the right time, you will need to establish clear goals, study and analyze your target audience, develop a content calendar, and involve the whole company in your content strategy.
In addition, to get the most out of your content strategy, you should create various types of content and publish them on various platforms, wherever appropriate. This is called content diversification. In this article, I'll explain why it's important to diversify your content and some examples of how to go about doing it.
So, Why Should You Diversify Your Content?
Firstly, different people have different preferences when it comes to consuming content. For example, some prefer to watch videos while others prefer to read articles. Diversifying your content across several formats allows you to expand your reach to a wider audience.
Secondly, people also have different preferences when it comes to the platforms for consuming content. For instance, some prefer to subscribe to RSS feeds of news sites to get their daily news fix, while others swear by Twitter.
Some hang out on old-school forums while others are into Reddit. By publishing your content across several platforms, you increase the chances of your content being seen by as many people as possible. Note that different platforms require you to tailor your content in different formats.
Set Your Goals First
There is no point in creating content just for the sake of creating content. Before creating social media posts or email newsletters, you must first ask yourself why you're creating content in the first place. Typical goals include:
● Raise brand awareness
● Improve search engine rankings so your website appears higher in search results
● Engage your fans and followers so they stick with you, potentially leading to loyalty when it comes to sales
● Generate new sales leads
● Increase conversions
When you've set your goals, you can decide the types of content that are likely to be most effective in accomplishing these goals, and then go about developing them. If you're trying to raise brand awareness, for example, consider banner ads, Google ads, etc. If you want to generate new sales leads, consider creating an attractive landing page.
For improving search engine rankings, research effective keywords and start writing articles that contain the most relevant ones.
Now, let's talk about how you can diversify your content.
Tailor Your Content According to the Platform
Content creators and marketers have several different platforms available to them today - Facebook, Twitter, Instagram, LinkedIn, Medium, Quora, etc. Each platform serves its purpose and has its own set of users, allowing you to reach your target audience in several ways. For example, in addition to maintaining a blog on your website, you could also maintain a Medium blog with the same content, allowing you to reach Medium users who otherwise wouldn't find your content.
We advise you not to maintain a Medium blog alone, since if Medium were to close abruptly someday, you won't lose your content. If you wish to raise brand awareness, in addition to writing ads and publishing posts on the big three social media platforms, you can create a sponsored answer to a relevant popular question on Quora. You can use Instagram to promote visual content like images, GIFs, and comics, for example.
Mix Things Up
Things will quickly become stale if you publish the same type of content exclusively. To be effective in your content marketing efforts, mix things up by creating several types of content. If you're launching a new product, for example, don't restrict yourself to a blog and social media posts.
Besides these, make a launch trailer highlighting some good comments from critics' hands-on impressions, run a contest where one lucky winner can win your product, and so on.
Cover as Many Topics as You Can
Your followers will eventually lose interest if you talk about the same few topics over and over again. To maintain the interest of your followers in the long term, cover as many topics as you can, even if that means going offbeat from time to time. Even if your brand is in a very niche industry, there could still be several topics related to your niche that you could be covering.
For example, let's say you run an indie game development studio. From a content perspective, you don't have to restrict yourself to dev diaries or promotional material. You can write about game design, how certain gameplay mechanics made a game brilliant, risk and reward in games, etc.
This makes your followers want to come back for more and they start respecting and trusting you more. Ultimately, improved respect and trust can make a big difference when it comes to sales.
Involve as Many Writers as Possible
It's okay to not have your designated content writer write everything that needs to be written. Once in a while, it can be useful to get someone else on board. They can offer novel ideas and/or a different writing style that could make your content look fresh.
As an example, if someone in your organization has been a teacher in the past, they can write about how learning to teach various types of students made them better understand the value of mastering the subject yourself. Your CEO can write an editorial on the current state of your industry. And so forth.
I hope by now that you've understood the importance of diversifying your content and why it can make a difference when it comes to promoting your brand in the digital age.
At Forest, we have a dedicated team of diligent content writers who pour their heart and soul into their writing. If you'd like your business or brand to be elevated through the power of written content, consider reaching out to us via phone or email.