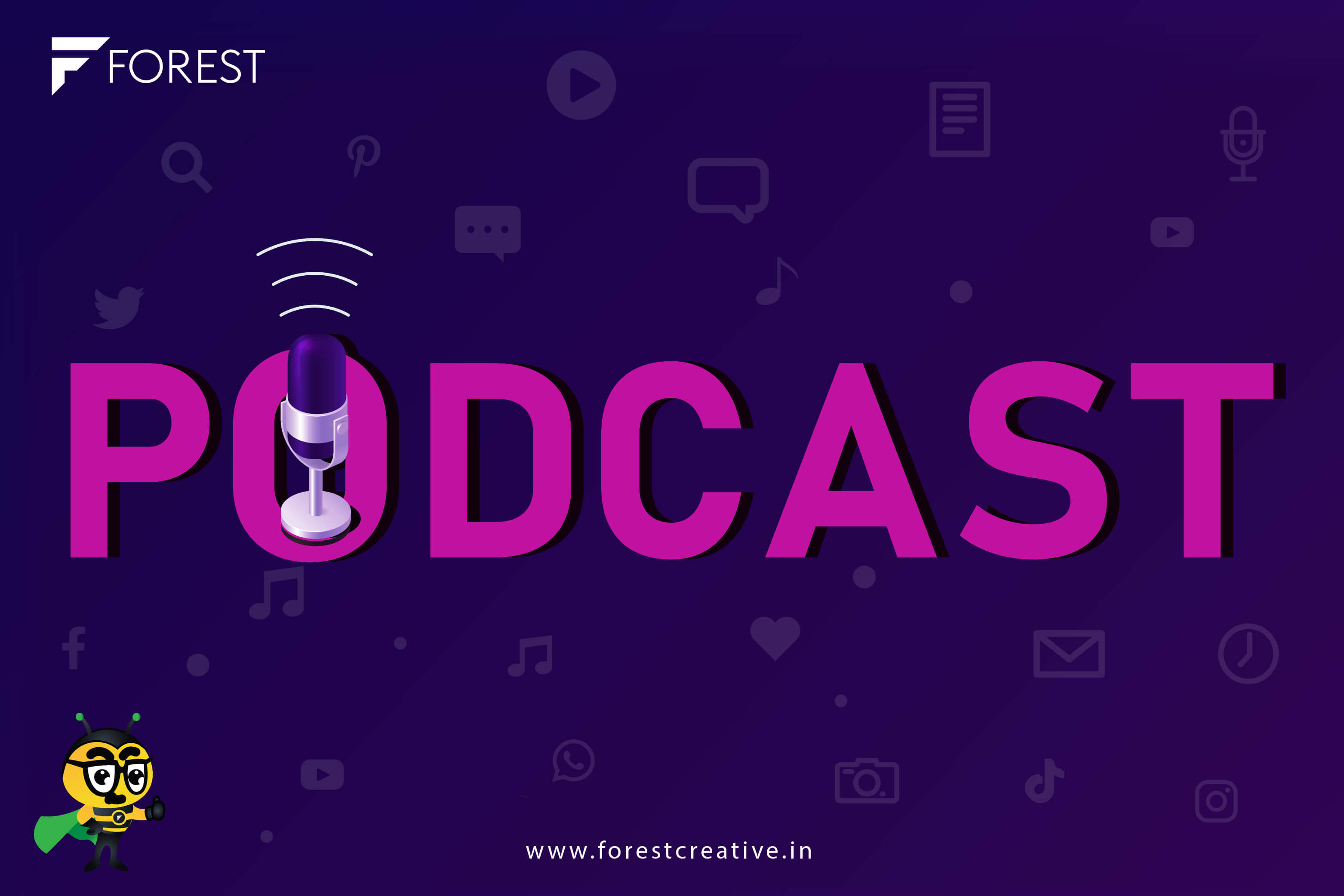 What will be the Future Trends for Podcast
July 7, 2022
"In today's world, using Podcasts for brand awareness is important. Podcasts are one of the best ways for your clients to consume content in this modern era because they are convenient. Engaging podcasts form habits. Your audience will tune in to your show if you have the right mix of information, fun, light-hearted bantering, and music.''
It's incredible how things develop in cycles. Lessons were passed down orally during the time of the Vedas. Over time, the spoken word was recorded in writing, and we started learning through reading. We have since returned to learning by listening to other people speak thanks to the invention of podcasts.
What makes podcasts so popular?
The on-demand nature of podcasts is one of the reasons for their increased popularity. People are becoming more accustomed to enjoying whatever they want, whenever they want, whether it is television, movies, music, or news. They no longer have to listen to pointless radio debates; instead, they can browse the podcast candy land that is on the internet and find something that interests them.
In an age when experts have access to a plethora of marketing tools, one tool that is frequently underutilized is podcasting. Podcasts are effective marketing tools because they enable brands to reach a specific audience. According to research, podcasts help to hyper-target audiences and provide a good return on investment. Podcasts also provide value to listeners because they are frequently informative and educational. The content market is fiercely competitive, to say the least.
Affordable and Easy to Create
Successful digital marketers score major victories with their content when they locate a sort of content or topic that has great engagement and little competition. That is precisely what a podcast does. While there are approximately 80 Million Facebook business pages, only 700,000 podcasts are currently airing. When you search by topic, this number decreases. I listen to my favourite podcasts on my smartphone. And I'm not alone; 69 % (2017) of podcast listeners use mobile devices. Adopting mobile-friendly content types is critical as we increasingly prefer mobile devices over other technologies.
Podcast listeners can easily consume this content while on the go, whether at the gym, in the car, relaxing at home, or elsewhere. In our related research study, the Podcast Consumer Tracking Report, this quarterly report, which polled a large sample of weekly podcast listeners, clearly shows that anywhere from 5% to 7% of that group switched from desktops/laptops to mobile phones, and from at-home listening to car listening.
Setting up a podcast doesn't need much technical expertise, but it can help your business in many ways. Some websites have observed up to a 150 % boost in visitor engagement after implementing podcasting. Previously, visitors to the site spent an average of 8 minutes there; now, they stay there for 12–13 minutes. A podcast also gives listeners the impression that they are the only ones being spoken to, which keeps them interested for a lot longer.
Podcasts use very little data
Video files are considerably, much heavier than podcasts. Podcasts are considerably simpler to download than video files in a country like ours where internet speed is a problem in many locations. The Prime Minister's "Mann ki Baat" show garnered over 40 million listeners every episode, according to a Prasar Bharati study.
Are they actually the future then?
The popularity of podcasts will grow even more as a result of the growing acceptance and development of technology, such as smartwatches and voice recognition devices (Google Home, Amazon Echo, etc.), claims Forbes. Additionally, there will be more possibilities for consuming information on mobile devices, which is advantageous for podcasts as they are far better suited for enjoyment while travelling than videos. Videos are becoming more transportable as well, but not in all circumstances, such as when driving or at work, it's all about listening these days. Let's take a look at the Global Podcast Industry:
- Global Podcasting Revenue in 2020 (estimated by Deloitte): $1.1 billion
- Global Podcasting Revenue by 2025 (estimated by Deloitte): $3.3 billion
- Number of active podcasts in 2020: 1 million+
- Number of podcast episodes in 2020: 30 million
- Number of languages podcasts: 100+
- Number of podcast listeners in India by 2023 (PwC): 176 million
Podcasts offer many benefits for businesses
Let's look at some of the best reasons to include podcasting in your content assets:
- Podcasting Faces Little Competition
- Convenient & Engaging for Listeners
- Increasingly Popular
- The Podcast Audience Is Very Loyal
- Podcast advertising grows brand awareness
- Improves Traffic Generation
- Easiest way of Marketing
Podcasts can help you build brand recognition
The first step in attracting more customers for any business is to raise brand awareness for the company, products, or services, and podcasts help you do just that and more. So, instead of feeling overwhelmed when it comes to advertising your brand, start using podcasts to effectively communicate with your audience as a marketing asset.
Podcasts not only help you build credibility for your brand, but they also help you learn more along the way. This is why, when you develop a brand podcasting strategy for your company, you create a better overall approach to effectively bridging the communication gap with your intended audience.
Final Thoughts
Podcasts give you extra opportunities to learn about your clients and customers as well as from other experts in your sector. You can experiment with various offers and calls to action by running podcast advertising or by producing your own. You can infer that the same audience is listening to several podcast episodes because many podcasts have a loyal following. Despite the low level of monetization, the time for podcasting is now. There are many people creating quality content, but there is still room for much more. There is no upper limit to how far your voice can travel with podcasts.
Take your company to the next level!
We are an advanced design and digitally efficient agency based in Bangalore, offering Podcast services. Get in touch with us at Forest Creative Communications Pvt Ltd for further details or contact us.
By Dr. Anjana Sinha
Hashtags
#podcast #podcasting #contentmarketing #marketingtrend #trending